Today's Health News
This breaking health news is updated many times daily and comes from a wide variety of reliable sources. Use it to get ideas for library programming, content for your own communications, and resources for patrons seeking specific information.
How to Protect Yourself From the Sun's Harmful UV Rays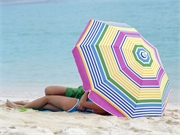 SATURDAY, July 11, 2020 (HealthDay News) -- When you're outside this summer, be sure to protect yourself from the sun, the American Academy of Dermatology (AAD) rec...